No. 2: A kind of tour
I've been celebrating the launch of my album with a bunch of shows over the last two weeks, starting with the Eye of the Dug Festival in St Andrews, then London & Bristol followed by an exhaustive tour of Ireland that took in Kilkenny, Dublin and Ballina.
Here's me, Emma & Vince (from the band Geese) recording a session for Vic Galloway (BBC Radio Scotland) in a fancy library in St Andrews University.  Vince has just told a joke

Amazing festival, great people, nice house in the country.  We returned to London where myself and another Fence artist, Delifinger, were due to launch our respective new releases on Fence.  In a cruel twist of fate, our respective releases were rendered invisible when the plant where our records were being pressed buckled under the increased demand for all things vinyl due to Record Store Day the following weekend.  Undeterred, The Pictish Trail opened proceedings beautifully, shamelessly promoting his own merchandise in the absence of any records.   The Delifinger ensemble grooved along delightfully and then we did our thing.  Almost all evidence of this night has since been destroyed except for this photo of me being blinded by the light, courtesy of Mr Ade Brown.  Emma and Vince were there too but appear to have been swallowed up by the darkness
The next morning I headed for Bristol to play another show with Delifinger.  Happy with the previous night's performance, I was very relaxed and ended up going to the wrong train station, missing my train to Bristol.  I managed to get a later train but again, very little evidence that this night ever happened except for a really nice review that you can read here.
'While he told his strange, sometimes almost surreal stories to the rapt, silent audience he would tune the guitar. Sometimes this would go on for quite a while'….yes, this is true.  Lovely evening and cheers to James OLO Worms for having us
The morning after the show in Bristol, I drank a glass of water and jumped into a taxi to the airport.  The driver had moved to Bristol to escape a gang he used to hang around with in Croydon as a youngster, an interesting and unexpected conversation to be having at 6 in the morning.  I landed in Dublin Airport and took myself off down to the townland of Kilkenny where we did a set outside Rollercoaster Records…thanks to John Lynskey for the following photos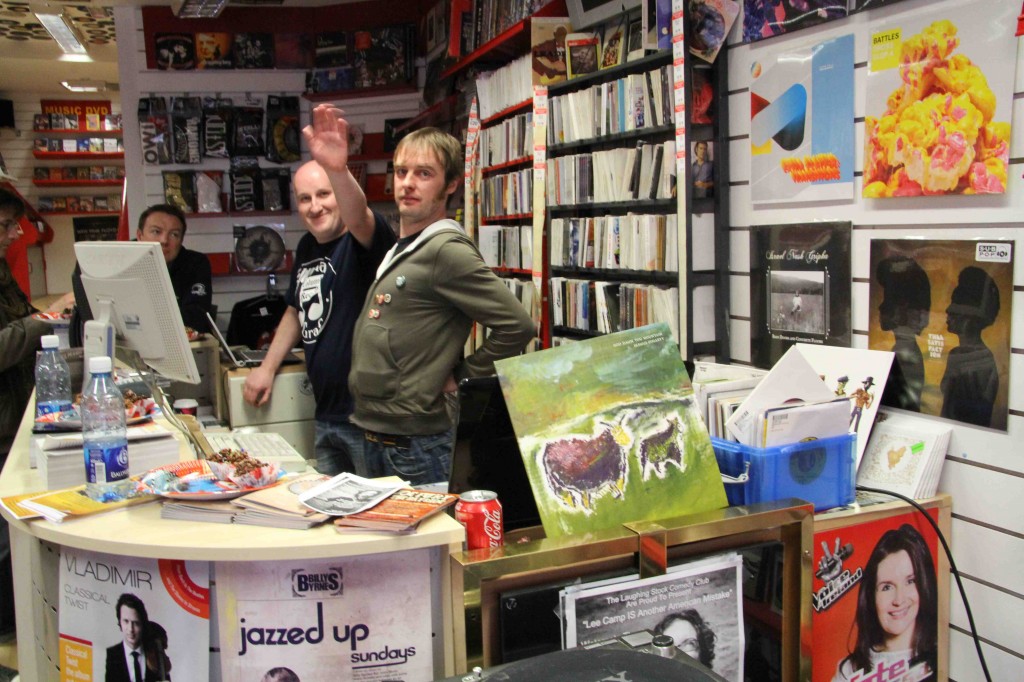 For these few Irish shows I was joined by my brother John and Graham Watson.  In this photo John relieves himself in what he believes to be an empty theatre while Graham tunes his banjo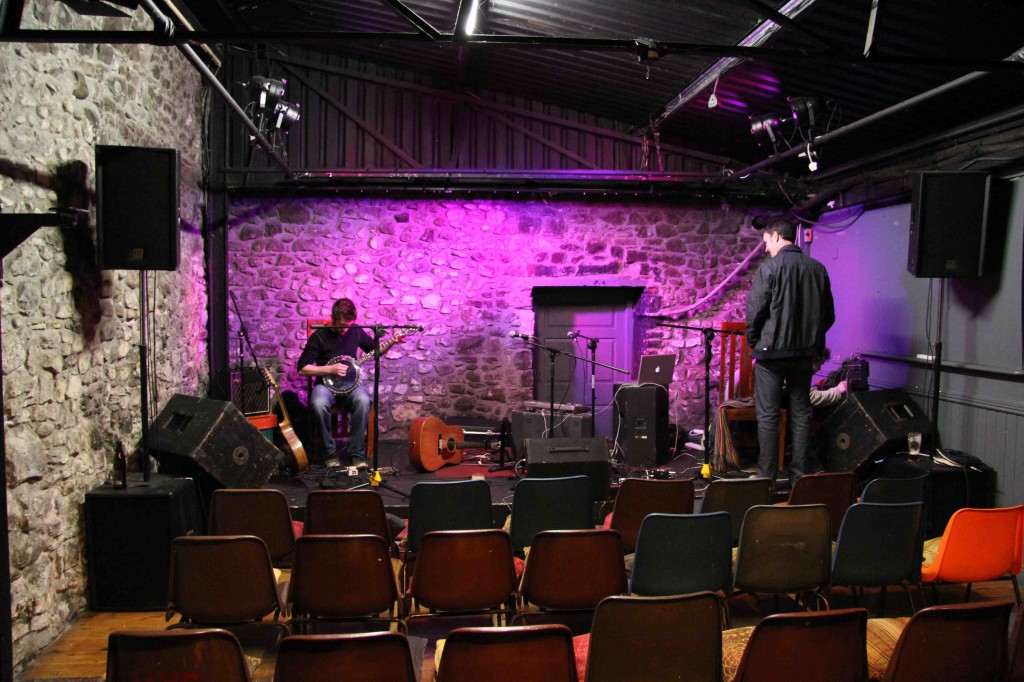 Next up was Whelans in Dublin and it involved another jump out of a bed and onto a train.  This journey was the oddest by a long way.  The carriage was full of old women and their combined sound was like nothing I'd ever heard before…it was like being trapped in a factory full of battery hens, quite remarkable.  I sat across from the only person in the carriage who wasn't an old woman(besides myself), some lad on his way to visit his son in Athy.  We marveled at the magnitude of the din surrounding us on all sides and then he asked me if I played music – the guitar case being an obvious clue.  I said yes and he asked me my name.  I told him and he proceeded to type my name into youtube on his phone….a very odd experience, watching a stranger watch a video of you while you're sat across from them, more than a bit disturbing.  He complemented me on my voice and our conversation found its way on to the subject of bread, specifically bread that can only be found in certain parts of Ireland, fascinating stuff.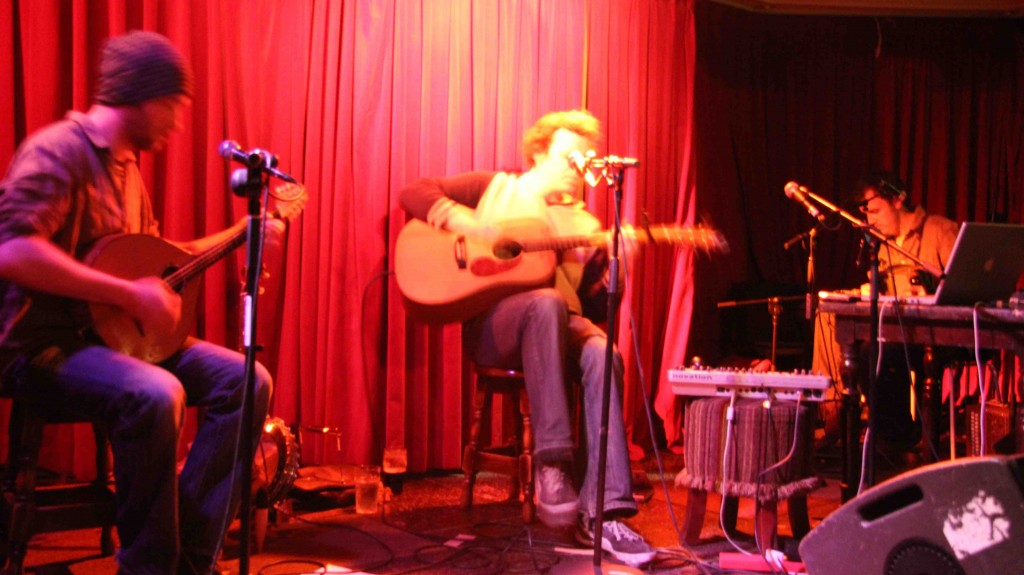 Whelans went really well, amazing crowd for a Monday night and an amazing set by Peter Delaney.  Actually the whole thing went really well, from St Andrews on the east coast of Scotland to my final show in Ballina Arts Centre on the west coast of Ireland.  There's no evidence of that show but it did take place and in a quite stunning venue too.  Thanks to all the promoters who helped me organize this escapade and thanks to the people who came out to make this such an enjoyable experience.  It was absolutely brilliant to see people I hadn't seen in years come out and support.  And and and thanks to Fence Records for putting out my album and everyone who's bought it…still on sale here.  Next up is a short tour with James Yorkston at the end of May
———————————————————————————————————
No. 1: Mailing lists and other PR stunts*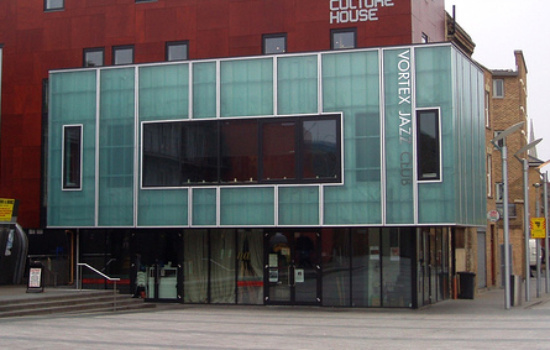 This week I played a short set in The Vortex, a really cool London venue synonymous with good jazz and colourful polo necks.  Aside from a few jokes I told, the show went down pretty well and I was excited to be announcing that I now had had an official mailing list where people could find out what exotic location I might pop up in next.   One girl (in total) added her name to the list.
As I sloped about outside waiting for the main act, the same girl made her way over for a chat and of course there's nothing I enjoy more than an old bit of chat with the punters, especially after I've played.  Our conversation began with her asking:
"Um, do you think you might be able to get Matt's autograph for my friend?"
"Who the fuck is Matt", I replied diplomatically.
"He's the lead singer of the band who played after you"
"Oh" I said, "No I can't"
This episode behind us, and the pain I felt well and truly buried, we chuckled away about Jedward and her friend's forthcoming Eurovision Party.  "Maybe I could come as Ireland", I chirped enthusiastically, but that went down about as well as my jokes earlier on in the evening.  She was very nice though and a welcome addition to the mailing list.
If you've gotten this far, you'll realize that I've only scratched the surface of how a well-maintained mailing list can help your band or business.  Start your mailing list NOW and if you don't have a band or a business, use your mailing list to make new friends and to get more out of life
* forthcoming blogs will not be like this